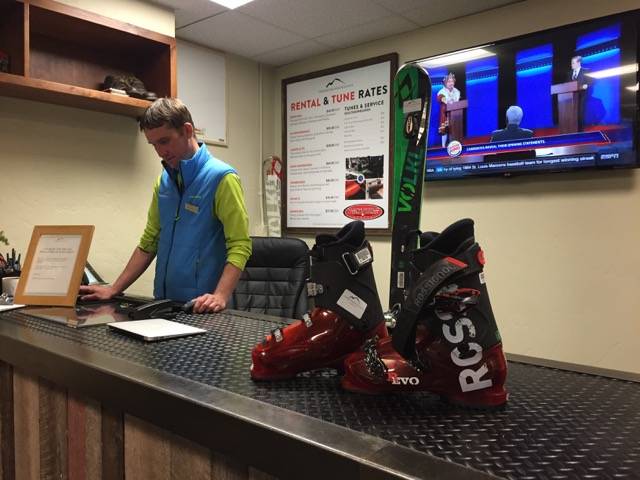 OK, full disclosure right at the start. I own a ski shop and have been accused in the past (understandably so) of being a ski snob. If I have to choose between skiing on un-tuned skis or not skiing at all, I will choose not to ski. I'm also, shall we say, a bit "particular" when it comes to my boots. I am by no means a World Cup skier, but I don't totally stink either. Probably the most fit description of my ability (or lack thereof) is that people who don't know how to ski think I totally rip and people who rip laugh at me!
Everybody I work with has been grinning from ear to ear raving about how amazing the snow is. "Best opening in a decade…" "Full-on powder runs in November…" "Nobody on the hill…" As a general rule I never ski until after the Christmas season because I'm just too busy, but I looked at my schedule this morning, realized I had a window and decided what the heck, I've been doing this ski shop thing for almost 25 years, surely I can make a few runs without getting fired!
So imagine my conundrum this morning when I show up at my shop in Bachelor Gulch ready to make my first runs of the season and my boots are nowhere to be found. I generally use a very stiff race boot and was pretty upset that my day was ruined because I wasn't going to ski a rental boot. Sensing my frustration, Jason and Steven turned to me and asked me why I didn't just go out on our rental setup.
Hmmm… What's a guy to do?
10 minutes later I was sitting on the Bachelor Gulch Express chairlift (all by myself because there were literately about 15 people on the entire mountain) in a brand new pair of Rossignol Evo boots and a 2015-16 Volkl RTM 84.
My first impression? Wow, rental boots are warm and comfortable. Given that the temperature was a blustery 8 degrees, I was happily surprised that I could actually still feel my toes when I got to the top of the chair ride. I only did 4 runs but I was totally blown away at the performance of my gear. The skis truly didn't surprise me that much as I knew this was Volkl's top of the line model, so I was expecting it to perform like a full blown race ski – which it did. Granted I was skiing on perfect corduroy, but nevertheless the ski felt incredibly responsive, stable at any speed, very predictable, and at home no matter what I threw at it. But again, this is a true flagship demo ski, so I was quite honestly thinking this is what I was going to get.
The boots, however, really got my attention. I haven't skied in a rental boot in at least 15 years. It was worth the wait! The Rossi Evo was uber comfortable but plenty tight to allow me to really lay into the ski. I tried leaning way too far back and way too far forward and the boot handled both just fine. I jumped off the side of a run into some chopped up powder and the boots were totally at home there as well. We often hear from customers that they are concerned about the performance of a rental boot. Well for my experience, the Rossi Evo will not disappoint you.
So buckle up, hit the hill, and charge!