Venture Sports Ski and Bike shop takes great pride in being part of our community here in Avon and Vail, Colorado. To us that manifests in everything from being an active part of the Vail chamber, to supporting local charity events like "Pink Vail" and the "Grateful Harvest" at Round Up River Ranch. One of our favorites is the summer Vail road bike group rides that we host every Thursday morning leaving from the Avon bike shop location at 100 West Beaver Creek Blvd. This year's schedule has some of the classics you know and love as well as some new rides to check out some new terrain.
The rides are open to everyone and no one is ever left behind. While we do get a great regular crew of locals on the rides we want to invite all visitors, whether you are here for a week or for a month come join us for one or as many as you can make it. This is a great way to meet new people, get inspired to tackle some of this tough mountain terrain and enjoy the safety of riding in a group.
To assure everyone has a fun and safe time we have prepared some group ride guidelines for our group Vail road bike rides.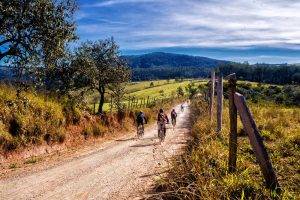 Be Prepared:
Having the correct tire pressure allows your bike to roll smoothly and quickly and most importantly avoid flats. Most road bike tires require between 80 and 120 psi, mountain bikes are generally 25 to 35 psi depending on whether they are tubeless or not. Also make sure you bike is well tuned so you are not grinding gears or throwing your chain, not only will this slow you down and require extra exertion, but a thrown chain on a road bike can be a dangerous thing as you do not have control of your bike on the road. Having difficulty with your shifting can also cause you to be distracted and potentially create a risk to yourself and other members of the group ride. Be sure to make sure your brakes are in good shape, we will be riding some of the biggest mountains in Colorado, you will want to be able to stop.
If you do have a mechanical problem  don't worry, our group rides are known for great people who are more than happy to help, many of whom have extensive knowledge on how to maintain a bike.
Being prepared does not just mean your bike, the mountains of Colorado are legendary for extreme swings in weather. On a couple hour ride you can experience everything from a freezing snowstorm that can cause you to go hypothermic to melting from sun exposure. So be sure to have sunscreen on and some layering options, even the change from ascending a mountain pass to descending one you may go from a cycle jersey to an insulation and wind layer to keep warm.
Follow The Rules of the Road
The roads are getting more and more crowded these days, and distracted drivers are becoming an extreme problem for road bikers. We can do our part to protect ourselves and increate harmony between the car/bike community by following the rules. This also protects the group as it keeps everyone on the same page. So the simple things, use hand signals for turning and slowing down and riding single file go a long way in keeping everyone safe and in harmony.
Good Communication
This is a big part in a successful group ride. Everything from hand signals indicating hazards in the road to verbal communication, "car back" go a long way in keeping everyone safe. Also making sure that everyone knows how everyone is feeling so no one is pushed too hard.
Symbiotic Riding
Not only does staying aligned allow you to draft and save energy but it is safer. If you have your wheel overlapped with a rider in front of you and they make an adjustment for a squirrel that runs in the road or a pothole they could easily take you out. Same goes for maintaining a consistent speed, this allows everyone to pace easier, keep the pack together for fun and safety. It will also reduce fatigue on long rides.
Have Fun
Our group bike rides are not a race, these are social events, there are no trophies. These are about sharing our love of cycling and making new friends!
Check out our Group Vail Bike Rides Schedule here
Need a tune, we have been awarded Best Bike Tune too many times to mention.
We look forward to seeing old friends and making new ones this summer while getting in some great rides and quality time in these beautiful Rocky Mountains!