Our team from Grand Hyatt Vail loves Ouzo Glade, especially when it's covered in powder.  This Vail ski run has wide open trees, great pitch and is a magnate for secret stashes.
---
Check it out on the Vail ski map.
Access this from Chair 2 or from the NEW Game Creek lift.  Follow the cat track down past Faro and Ouzo to Ouzo Glade.  Pick your line through the open trees and find your own personal stash of powder.  Zip by the Game Creek Club and continue on down to the Game Creek Express Lift to lap this again… and again until it's all packed down.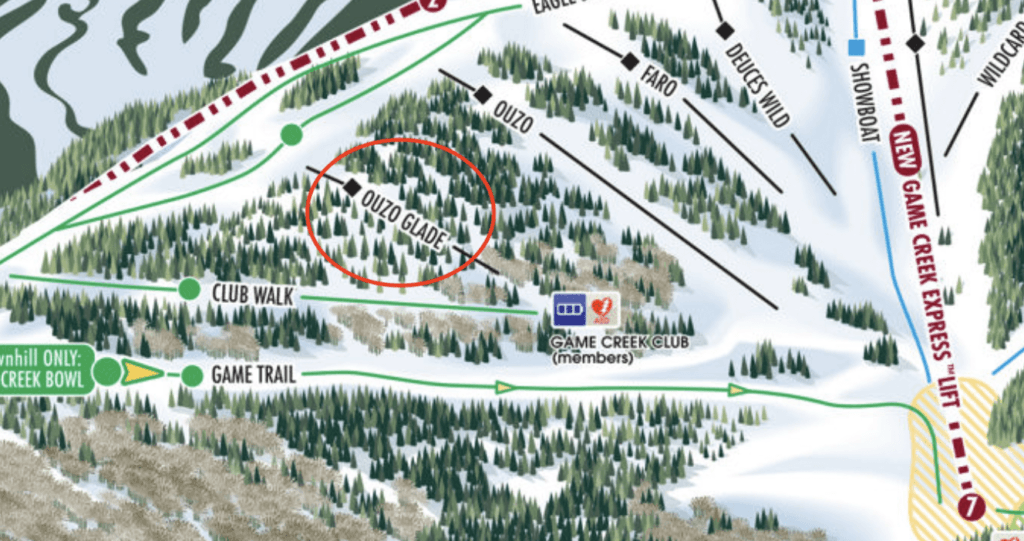 ---
Rent Skis in Vail With Us
Visit our Base Camp location to rent skis at the base of Gondola 1 in Vail Village > https://avonventuresports.com/our-locations/vail-ski-shops/
Visit our Evergreen Vail location to rent skis at the best prices in the Village > https://avonventuresports.com/our-locations/evergreen-vail-ski-shop/
Visit our Lion Vail location to rent skis in Lionshead Village > https://avonventuresports.com/our-locations/evergreen-vail-ski-shop/
Visit our Grand Hyatt Vail location to rent skis in the Cascade Village > https://avonventuresports.com/our-locations/grand-hyatt-vail-ski-rental/
Or have them Delivered to your door anywhere in the Vail Valley > https://avonventuresports.com/our-locations/vail-ski-delivery/