Chad Shoulders gives us a choice pick for the Vail Ski Run of the Week – Outer Mongolia.  Its best on a powder day and he gives us some great advice on how to ski it safely.
---
Check it out on the Vail ski map.
This is no easy run to get to, but worth the effort.  You must head all the way over to the Mongolia Lift #22.  Just a heads up this is a a Poma.  If you are not familiar, please do your research before attempting.  Some snowboarders might find this less than favorable.  You will then head all the way over on Silk Road to Outer Mongolia.  Make sure to keep your speed up at the bottom as there is a long cat-track home.   Bring your demo powder skis and tear this one up!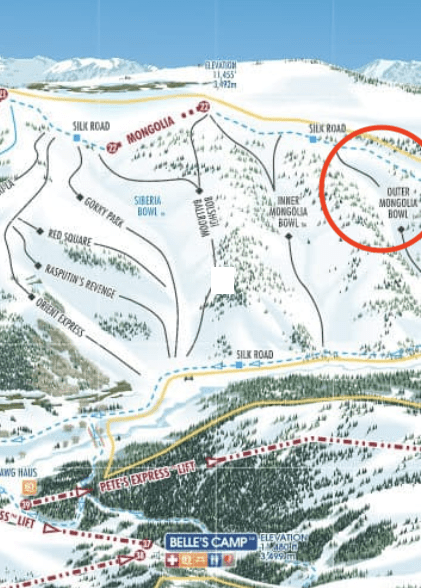 ---
Venture Sports – Best ski rental in Vail
Visit our Base Camp location to rent skis at the base of Gondola 1 in Vail Village > https://avonventuresports.com/our-locations/vail-ski-shops/
Visit our Evergreen Vail location to rent skis at the best prices in the Village > https://avonventuresports.com/our-locations/evergreen-vail-ski-shop/
Visit our Lion Vail location to rent skis in Lionshead Village > https://avonventuresports.com/our-locations/evergreen-vail-ski-shop/
Visit our Grand Hyatt Vail location to rent skis in the Cascade Village > https://avonventuresports.com/our-locations/grand-hyatt-vail-ski-rental/
Or have them Delivered to your door anywhere in the Vail Valley > https://avonventuresports.com/our-locations/vail-ski-delivery/