Starting today June 6th and going through an entire fun filled epic weekend of games, music, entertainment and more the Go Pro Mountain Games kick off summer in Vail.
The main focus of the event brings in over 3,000 amateur and professional athletes competing in more than 30 events covering all aspects of mountain sports.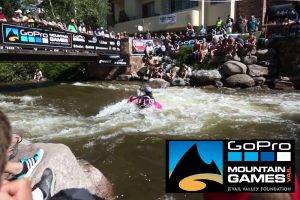 One of the newer fan favorites is Saturday's 4-mile stand-up paddle race down Gore Creek with an international crowd gunning for glory. The YETI SUP Surf Cross put four paddlers in a chaotic cross race don the Gore Creek Slalom course. This one is equal parts skill and craziness.
Launching from Golden Peak this year, the 7 mile and 2,00 plus foot gain course weaves up and down Vail Mountain on smooth but steep service road, narrow, wildflower-strewn singletrack and fast flow trails. Loaded with pro racers as well as local crushers and a crop of up-and-comers, the TIAA Bank XC Mountain Bike course is all things fat tire fanatics could hope for. This year also brings the third running of the GoPro Mtn Enduro race where athletes punish themselves along 25 miles of world-class singletrack. This race is in Eagle on their legendary mountain bike trails.
Not to be outdone and new for this year's games BMX racing comes to the track in Eagle, Colorado, on Friday. Groups of riders compete in a fast-as-you-can single loop around the track, with the winners moving on to the next heat. BMX Racing is one of the most popular sports on dirt, and this year the GoPro Mountain Games promises action from the moment that the starting gate slams down with a course loaded with steep backsides, deep turns, and downhill sections can add up to massive speeds.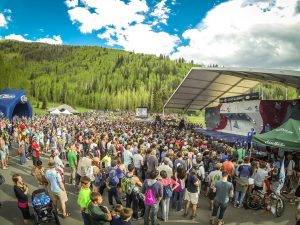 Considered one of the nation's most challenging 10K trail runs, the foliage-lined course weaves up Vail Mountain for nearly 2,000 vertical feet. It's no surprise that World Mountain Running Champion, XTERRA World Champion, and all-around running rock-star Joseph Gray is the guy looking to maintain his dominance in 2018.
The Mountain Mud Run is a crowd favorite and possibly the Mountain Games' most lighthearted event. With costume clad foursomes, families and kids splashing through the mud pits like giggling, galloping goofballs it is pretty hard to take yourself too serious.
Vail is known for world-class fishing and the Costa 2 Fly X-Stream gives these anglers a chance to strut their stuff in front of a crowd. The Eagle's current water level is prime for float fishing, but before they earn the opportunity to wet a line anglers will have to get through two rounds of casting qualifiers.

Prepare to be amazed by balance, control and acrobatics as international athletes toe the edge of insanity in the final event of the US Pro Series, the Pacifico International Slackline Invitational. Feeling inspired? An interactive slackline area will be set up for everyone to try throughout the weekend at the Solaris Plaza in Gear Town.
After a full day of adventure wind down with some music and a beverage, this years games has something for everyone from the Forever Young Moonshine Trio part of Pickin n Pints to the expanded eight-piece lineup of the widely praised soul-based rock unit St. Paul & The Broken Bones.
Looking for something a little more relaxing, grab your blankets, coolers, and lawn chairs and grab a piece of grass next to Vail's Gondola One for GoPro shorts, an Outside TV Athlete Profile and featured flick Power of the River.
This is just a teaser of this epic event, click here to learn more and check back for updates on our favorite activities as the week unfurls!