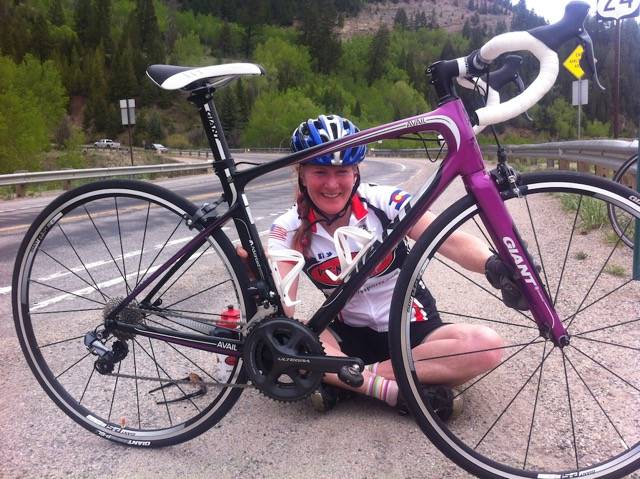 It is November 3, 2015 and I am still riding my bike. It helps that we have had an amazing weather with lots of blue sky days! In past years, I have always been ready to hang up the bike for winter clothes and activities. I usually am eager for the first snow and ready to change out the clothes in my closet. This year is different! I am getting in at least one ride!!
I guess you can say I am grieving the end of the bike season. Grief is the conflicting feelings caused by the end of or change in a familiar pattern of behavior. Throughout the summer, I rode 3-5 times a week with the Vail Valley Vixens or on my own. All of a sudden I am not looking forward to this change. I intellectually know that winter is coming, but I will miss the time spinning, and riding up hills. I will miss feeling exhausted after an awesome ride. I will miss chatting with all the new women that I have met this summer. Biking has become my main source of exercise. While I love inline skating, running, nordic and alpine skiing, I think the bike
has stolen my heart!
It was rainy day in Portland Oregon in 1997 when my friend borrowed my VW Fox to run a few earns. She got in a little fender bender but it was enough to total my car. What do you do with your check from the insurance company? Well, I bought a Trek road bike. It took some time to learn how to clip out of the pedals, change a flat tire and get comfortable riding on the road. But once I got the hang of it, I was going on longer ride and challenging myself more and more. Fast forward to 2014, and I am still riding my Trek. After some new handle bar tape, she was as good as new! I remember riding the Leadville Loop with a group of ladies in August of 2013. I didn't think I would be the back of the pack because I was riding a lot all summer. But I was! I
didn't have the gears the other girls had to climb the passes. The following summer, an employee of ours wanted to buy a road bike so I toyed with the idea of selling mine to him. My husband, Scott told me to go ride a few bikes and see what I liked. I bet he wishes he didn't tell me to go do that! I was hooked!
The first thing I did was get a bike fit. The whole point of a bike fit is to make you sit more comfortably (which will let you ride for longer) and to help you ride more efficiently. The bike fit also helped determine what size bike to get. I went to Venture Sports to demo a few bikes. Pinnarello vs. Giant, I took several test drives to see what would work for me. In the mist of choosing which bike I would get, I got back on the Trek and went for a ride. It was awful! My seat post was too high, I was stretched out to long, and it didn't handle like the new bikes. I quickly got back to Venture Sports and bought a Giant Avail, and went riding that very day! It has changed my life. My bike's name is Serendipity. My daughter Mary was 5 years old at the time and she named the bike. I thought it was a wonderful name. Serendipity means the occurrence and development of events by chance in a happy or beneficial way. Serendipity has brought me many hours of happiness!
I look forward to blogging on the Venture Sports Ladies Lounge! My name is Celynn McClarrinon. I have lived in the Vail Valley most of my life. When I am not riding my bike, I keep busy. I am a Certified Grief Recovery Specialist, helping individuals move beyond losses in their lives. I work with my husband operate our family owned Landscaping business, and run after our daughter.