The world over knows about the legendary skiing of Vail Mountain with the most terrain of any ski resort in the state, graced with that super light Colorado snow that makes for effortless skiing. But Vail is much more than that, the Marriot Traveler lays out "Vail Beyond the Slopes" 7 Ways to Experience This Rocky Mountain Respite" and guess who gets a proper shout out? That's right Venture Sports, for being your go to choice for a Vail bike or ski shop while you are hear for your outdoor adventures.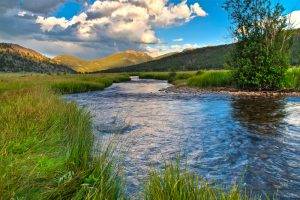 Want to try a sport that requires finesse and strategy fly fishing could be what you are looking for, and with the stunning Gore Creek stocked with brown, rainbow, cutthroat and brook trout it is a fisherman's dream. Vail even hosted the 2016 World Fly Fishing Championships.
There is great music with the Vail Jazz Festival that attracts more than 200 artists to perform against a backdrop of the Colorado Rockies. This twelve week concert series has something for everyone.
One of Vail's newest attractions is on the mountain for summer visitors, Adventure Ridge. With zip lines, an adventure ropes course and the Forest Flyer Mountain Coaster there is something for everyone. In the winter there's tubing, ski biking, riding snowmobiles and snowshoeing, giving your ski vacation even more variety.
But where Venture Sports Bike and Ski shops come in are the mountain biking. Advanced riders will love West Eagle with steeper and more technical terrain, amazing views and single track galore. Trail like Abrams Ridge, Itch, Scratch, World's Greatest and Fire Box or offer technical riding with a strenuous workout.
Newer riders will love the six-mile Haymaker trail before they move up to the Boneyard and Eagle Ranch loops for a little more challenge.
For something completely different on the mountain Vail offers lift served mountain biking, where you can get more downhill time in one day than you have in your life!
The Traveler knows their stuff as them specifically mentioned heading into one of our locations for all your bike rental and gear needs while you are on your Vail vacation.
Of course the newest nation wide craze of SUP (Stand Up Paddleboarding) is also a hit here in Vail. With several bodies of water to choose from, including lakes and rivers and surrounded by stunning views, this is a great way to get out and enjoy the water while in the mountains.
There are many food and wine events throughout the year in Vail, but the local's favorite is Restaurant Week, usually held the first week of October this is a great addition to a more quite time of year. Many restaurants in Vail and Beaver Creek offer prix fixe tasting menus at a great value.
With more and more cultural and outdoor activities being cultivated in Vail every year this once "ski town" is now becoming a year round destination for foodies, music lovers and adrenaline junkies alike!