Venture Sports Vail ski shops is known for providing a our guests in Vail with a luxury ski rental experience. With slopeside ski rental available we will carry your ski to the snow for you. Making sure you have the best ski rental experience possible begins the ski season before when we spend a couple weeks on demo skis hand picking our rental fleet for the next season. Sure this means we have to make time to go out and ski in everything from big powder days to sunny groomer days and even bashing soft bump runs, but hey we think you are worth it!
Our ski rentals include K2, Rossignol,  Salomon and more, so we spend at least two to three days with a representative from each company so we have time to get on each and every pair of skis they are brining out for next year's ski season. This little video is from a day at Beaver Creek with Scott our rep from Rossignol.
Mike Brumbaugh: All right, we have just finished up an awesome morning here testing skis here at Vail / Bachelor Gulch. Anna is working like a slave the rest of us are having fun, thank you Anna. Gavin what is yoru showstopper, what is your favorite ski?
Gavin: I liked the Escaper, it is super light weight so it if fun to jib it around a little bit, at 94 underfoot it turns easy.
Mike: Tracy, what do you like?
Tracy: This is the Rossignol Black Ops Rally Bird, great ski!
Mike: Chad what are you going with?
Chad: I like the Experience 88, it is a great sunny day groomer/cruiser ski.
Mike: It is a sunny groomer/cruiser day for sure! Senor?
Senor: That would be the Black Ops Sender. Skis like the Super 7 super light and floaty.
Mike: Bobby what are you skiing?
Bobby: Black Ops Holy Shred, this thing rips!
Mike: And according to the rep you can ski it on the Holy day because it is Holy! And Mr. Rep, what you got?
Rep: Day like today the Hero Elite Plus is shredding!
Mike: All right, I am going with the Sender ski as well, the Non TI, I really like it so, thank you Scott from Rossingol for making this happen, thanks to Rossi for making this the best ski day ever!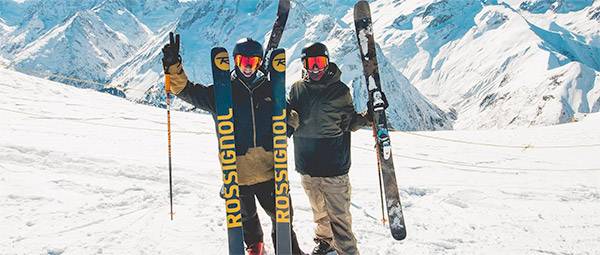 The Hero Elite Plus has a short turn radius combined with a wider waist so it can make snappy turns while still holding an edge like a vice grip, making these skis pure carving machines. The torsional stiffness really lets you feel comfortable at speed while the maneuverability lets these skis perform on our endless mogul runs here at Vail ski area!
Tracy tested the women's specific rental ski the Rossignol Black Ops RallyBird, which she felt was a perfect choice for the soft snow on this sunny day. This shapes ski has a nice shovel that will keep you afloat in medium powder days while the Line Control Technology helps you ski them on more difficult conditions including crud and chop. With the Diago Fiber weave layed over a Paulownia wood core the ski does not chatter at speed so you can hit the legendary Back Bowls of Vail in the morning and then get a workout on some bump runs on the front side in the afternoon, all on one fabulous ski!
The HolyShred is the newest addition to the Black Ops line of Freeride skis from Rossingnol. With the progressive all mountain rocker shape these skis can charge. This will be a great Vail ski rental for an advanced skier who wants an all mountain gunner that can carve and stomp!
We have more ski demos to do still before the season ends so stay tuned to learn more about what we have in store for you from Venture Sports Vail ski shops!