All right everybody, so we are out here in Bachelor Gulch with David Crane, our favorite Salomon Skis representative we have ever had! We are testing next year's skis, K.J. what have you been on, what do you like? What do I like, I like this Force right here, the Force 9 it is a wonderful ski. Sweet, Bill, what is your personal favorite so far? Well I skied the Force 9 ski first and has a lot of guts, I am on the Stance now and I like that so far it is a real easy ski to turn. Right on, Bobby? Stance so far for me, surprised how well is has skied with those two sheet of metal, it is very easy to ski. Sweet Tracy? I was on the QST LUX and it's a super sweet and lively for ladies. And Anna, in Spanish, what do you like, I think she said she loved the ski based on her smile!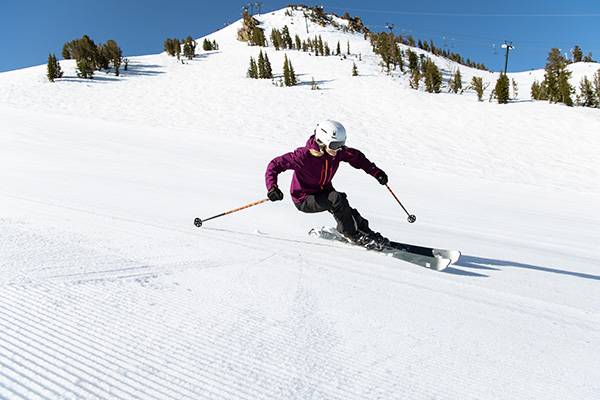 A little more about these skis for the 2021 / 2022 ski season, whether you are going to be hitting us up for your Vail ski rental needs or are in the market for a new pair of your very own here is what we learned on our Salomon skis demo day! The Force 9 rose to the top of everyone's list from the Vail ski shop, we love it because of the beauty of which it carves a turn. With a Crossover Tip that enhances stability in all snow types through absorbing vibrations and shock while delivering consistent edge-to-snow contact. This is going to be your choice if you think every day is race day, this ski balances speed with ease of skiing like nothing we have put on the snow here in Beaver Creek before!
The QST LUX was a hit with our ski delivery rental manager Tracy, this is a women's specific ski with less weight than other skis by Salomon. Designed to be used on groomers and small powder days maybe up[ to about six inches with that slight twin rocker. The Camber in the middle of the ski is what is going to let you tackle bumps with agility and groomers with speed. The tip to tail carbon layer that was new in last year's skis has stuck around and gives the ski more edge control and power without adding weight.
The Stance is an all new collection of skis for next year's ski season so this is a sneak preview and premier voyage for all of us here. The ski is built for those who like a metal ski but want to use it more as an all mountain tool, something more traditionally considered to be best suited with a wood core. Salomon achieved this with a full sandwhich sidewall and a race inspired sidecut wrapped around the double Titanal build.
These are just three of the skis we are testing this week here at Vail / Beaver Creek, check back for more as we dial in the perfect fleet of rental skis for your next ski trip to our little paradise!