At Venture Sports we take our commitment to our customers to be your best Vail ski shop seriously, sometimes that means long hours tuning skis or manning the shop getting everyone outfitted for the slopes with the best ski rental experience in Vail and Beaver Creek. But sometimes that means testing next year's skis and this is something we love. Sure it is hard work skiing different all day, swapping out skis every few runs to learn the nuances of how one handles terrain and snow conditions different than another pair of skis but if we want to know what skis you belong on when you rent from us then we need to know these details. It also helps us place our order for our ski rental fleet for the upcoming season so we have the best skis possible for our customers. Yes this does mean that we have go out and ski groomers, moguls and powder days so that we have the right skis for everything you want to do on your next vacation to Vail, but we care enough to make the sacrifice!
"Hi everybody, so we are here riding the chair at Bachelor Gulch testing some skis. I am on the Rossignol Black Ops Sender TI (Titanium) which I am looking forward to another run on. Kevin what are you rocking? I am on the Sender, no TI. All right, Tracy? I am on the Rossingol Stargazer 104. Yeah, and Bob? I am on the Black Ops 98. Awesome, what are first impressions everybody, Kevin how did you like the Sender? I enjoyed it, I think it would be a ton of fun on a powder day. Tracy, the Stargazer? Anything soft snow, soft bumps, good all around ski. Great, and I skied the Sender two runs last time, hard pack, soft pack all good and now I am looking forward to the TI version.  See ya!"
Some details on some of the skis we tested to help you find the right ski for your rental. The Black Ops is a Freeride ski with a progressive sidecut and a poplar wood core. This combination has proven itself for creating a playful ski that excels in soft snow conditions for those who like to ski light on their feet. The poplar core has added fiberglass to make the ski responsive while the wood give is the fluid feel. With the progressive sidecut you get confident grip and quick turn initiation. This ski won awards from Powder Magazine, Freerider and more!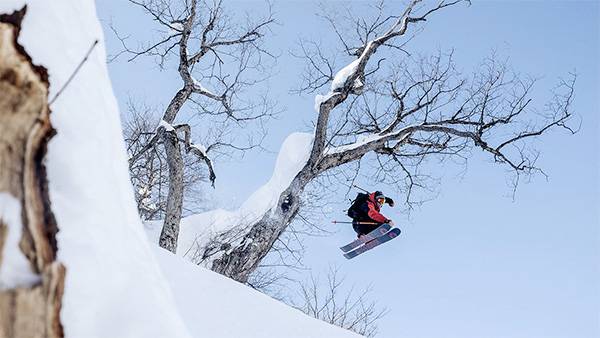 The Stargazer is a women's counterpart to the Black Ops, and as Tracy reports it excels in soft snow. Skis are definitely designed for different conditions as the flex and response is different accordingly.  The Rossignol Stargazer also has the poplar wood core, this combined with their signature Air Tip makes these nimble and agile, hence why they handle so well in soft bumps. With just a little bit of rocker these skis are going to handle much like a ski you have skied in the past but with just a little bit easier transition into and out of the turn.
The Black Ops is also part of the Rossignol Free Ride family but they loaded this one up with camber underfoot and more rocker at the tip and tail. This is going to be more for your new schooler who likes to get squirly!
Stay tuned for more as we get out there and dial on the best from Rossingol, K2 and more, so we make sure to have the best fleet of rental skis possible for all our locations in Vail, Avon and Beaver Creek!